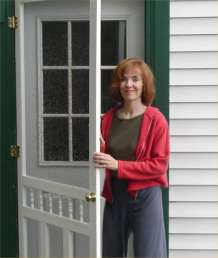 ---
My Only Story was a finalist for the Kate Chopin Literary Award, along with Mark Salzman's Lying Awake, Myla Goldberg's Bee Season, and Elizabeth Gilbert's Stern Men. (Liz won.)
REVIEWS of My Only Story
"A compelling and unusual tale that combines humor with tragedy, heartbreak with promise." Booklist
"Nothing happens the way we think it will, and nobody does anything for just one reason....The strength of Wood's empathy...brings to mind the humane best of Anne Tyler's work....Wood's command of voice holds a reader all the way through to the last page, where -- as after a good haircut -- she holds up a mirror and encourages us to recognize ourselves." San Francisco Chronicle
"One of the best novels of the past year. Monica Wood writes easily and without pretense, engaging her audience in every nuance and nod....The complicated plot keeps readers turning pages faster and faster....A gem to be read, reread, and treasured." Roanoke Sunday Times
"[Monica Wood] is an often graceful writer [with] an appreciation of tragic lives that still manage to embrace love....Wood's powerful belief in Rita's love of life redeems this novel, [for] even after Rita loses, she manages to keep drawing the Queen of Cups, the benevolent and sensitive woman, from the Tarot deck." New York Times Book Review, "Books in Brief"
"Feisty Rita...won't stop until she reunites [John Reed] with his orphaned eight year old niece. Then, the unexpected intervenes, with outcomes seemingly both preordained and unimaginable. At once bittersweet, funny, and moving. Finely written." Library Journal
"My Only Story is a wonderful book, a luminous and, I hope, lasting work of fiction that tells its story superbly....Rita Rosario [is] a fully realized character with the fire and strength of a Willa Cather heroine....Monica Wood did not begin writing seriously until she was 30. She's more than making up for it now. Good. My Only Story deserves plenty of company." Maine Sunday Telegram
My Only Story is a touching, sympathetic tale of an unconventional love affair and the bonds of family." Kepler's Books News
"This engaging new novel weaves two common family themes: wanting out, and wanting in. It's a wise, funny, sad, all-too-American blend of these conflicting impulses and how each can resolve into a new life....Wood skillfully works the competing threads of motivation into a tight, surprising knot of a story. Her generous vision is uplifting as well as entertaining." The Maine Times
"Monica Wood... may be Maine's best unknown novelist, a situation that hopefully will change with the publication of the Pushcart Prize-winning author's second book, My Only Story." Down East Magazine.
"You will love these characters and be drawn into their story as if it were your own....A touching and captivating story that you will not be able to put down. Let's hope the title is not a prediction from this talented writer." South Coast Insider (Massachusetts)
"It's a book about the power of family, growth, and forgiveness....The intricacies of the plot and characters are beautiful to read, and the ending holds some surprises. I'll keep my eyes open for more work by this author! Boadeciasbooks.com
Brilliant...the plot twists keep this novel at a rapid, page-turning pace, never taking you where you think you are headed. As in life, love and contentment come from unexpected places. Evanston Roundtable
"With luminous and graceful prose, Monica Wood has brilliantly captured the human need to love, the heart's desire to nurture, the soul's urge to sacrifice. I know of no other writer who can take on this subject and make it both funny and moving, entertaining yet utterly transcendent. This is a wise and loving book." Andre Dubus III, author of House of Sand and Fog and Bluesman
"My Only Story is a thoroughly captivating book: warm and wise and beautifully written." Richard Russo, author of Nobody's Fool and Straight Man

---
About the book...

My Only Story is a novel whose main character, Rita Rosario, cuts hair, tells fortunes, and reads the classics. Rita's beauty shop is the one holdout in a once-thriving Main Street that is being sold brick by brick to an outlet-mall conglomerate. Her quiet life depends on her stubborn resistance to change. One night she has a dream that she interprets as a summons, and before long she has flung herself into the life of John Reed, a lonely stranger who needs her help.

Rita decides to help John reconnect with a child he lost five years ago--his orphaned niece, Aileen, John's only remaining family after his brother killed himself and his wife in a fit of rage. Her mission soon meets its first obstacle--the smothering fortress of Aileen's family of aunts, who swept Aileen up after the murder and shut John out. It is Rita who discovers that Beth, the youngest of the aunts, has a secret that provides John's best hope for reconnecting with the niece he adores.

For Rita, obligation gives way to desire as John's story entwines increasingly with her own. But nothing is easy. Just when it looks as if everyone is headed for a happy ending, Rita's own family woes crop up in the person of her emotionally damaged sister, Darla. The way Rita fulfills the final demands of her dream will require an act of selflessness that tests the outer limits of her resolve.

My Only Story is about the inescapable pull of family connections, how the sins of the past are revisited in the present, and the ways in which good-hearted people pay their emotional debts.
---