---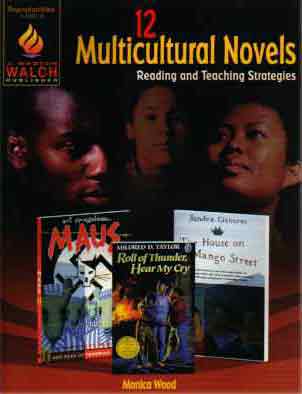 12 Multicultural Novels: Reading and Teaching Strategies came from my desire to infuse the contemporary high school and middle school classroom with truly contemporary literature. This book is a teaching guide to novels that I believe hold great appeal to adolescents, although not all the titles are "young adult" titles. The book includes extensive teacher notes for presenting lively, engaging class discussions. Teacher aids include chapter-by-chapter synopses, reading-level ratings, reading quizzes, discussion questions, and related student assignments.
Contents
Ellen Foster by Kaye Gibbons
Reservation Blues by Sherman Alexie
Shizuko's Daughter by Kyoko Mori
The House on Mango Street by Sandra Cisneros
Somewhere in the Darkness by Walter Dean Myers
Make Lemonade by Virginia Euwer Wolff
Roll of Thunder, Hear My Cry by Mildred D. Taylor
Maus: A Survivor's Tale (Volumes I and II) by Art Spiegelman
The Long Season of Rain by Helen Kim
Jesse by Gary Soto
Allegra Maud Goldman by Edith Konecky
The Dreams of Mairhe Mehan by Jennifer Armstrong
To order this book, go to the publisher, J.Weston Walch.