---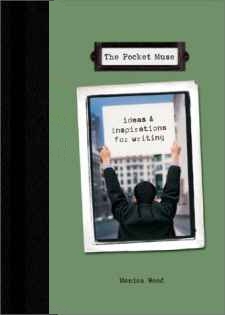 If you like my "Tips for Writers" page on this Web site,
you'll love my Pocket Muse books.
Volume I is green; Volume II is blue.
The Pocket Muse Endless Inspiration: New Ideas for Writing is the follow-up to The Pocket Muse: Ideas and Inspirations for Writing. These small, handsomely designed books are stuffed with writing prompts and exercises, quotations (fresh ones) from a variety of writers, mini-lessons on technique, strategies for battling writer's block, suggestions (and marching orders) for maintaining your writing life, horror stories from the book world, advice on everything from finding time to finding an agent, and even a few laughs. Black-and-white photographs intensify the directions or advice on the page or stand alone as idea-starters. I'm a firm believer that a writing life should contain more light than darkness, and I hope these books will help you turn on the light. For creative types of all stripes.
The Pocket Muse (volume I) was a Fall 2002 BookSense pick
Reviews:
"Bursting with quirky, short romps of the imagination, this is an ideal gift book, both for a friend, a writer, an artist, and, especially, for you....Monica Wood, a strong fiction writer in her own right, has assembled this verbal and visual treat, providing a reassuring voice plus completely charming conundrums...making the reader's synapses snap and sing in response." -- City Beat (Cincinnati)
"Sparkling with delightful, witty, thought-provoking morsels for today's writers, Monica Wood's dreamy yet realistic writer's companion will encourage your muse to take flight. The stimulating visuals laced throughout the book uniquely capture the essence of the literary imagination and provide salve for the writer's soul." -- The Barnes and Noble Review
"Books of this sort are often forced, or cute, or more about spirituality than writing. Not The Pocket Muse. It is a lively, appealing companion for a writer in need of a good nudge." -- From the Amazon.com Editors
"A wonderful gift book for the writer in your life. It fulfills the promise of its title...upbeat without being cloying, encouraging without being unrealistic." --from Inside the Cover Book Reviews
Excerpts from The Pocket Muse Endless Inspiration: New Ideas for Writing
(volume II, blue)
*******
Write about someone who misinterprets a compliment.
*******
Write about a friendship that failed you.
Write about a friendship you failed.
*******
Follow-up Memo from the Department of Just Showing Up: Every time you forgo writing for anything else—either worthy (your wedding) or unworthy (a rerun of Law and Order)—the words you would have written in that time disintegrate into the Black Hole of the Unattempted. Even if you had written nothing in those forty minutes you spent scrolling through blogs instead, you've still lost something valuable, because your Writing Nothing time is essential to building up to the Writing Something.
I tell my students to sit in front of the blank page for a prescribed period every day, whether words arrive or not. Trust that you are not wasting your time. Quite the contrary. You're establishing a habit that will rescue you, time and again, when something else asks for your precious attention.
*******
A Tip on Style: When describing an inanimate object, try to include a single animating element: a bird's shadow whisking across the side of a building; an anticipatory crackle from a bag of gumdrops; a fingerprint dried into a freshly painted mailbox. These details suggest a presence beyond the object, and may lead you to a more nuanced understanding of the thing you are trying to describe.
________________________________________
Excerpts from The Pocket Muse: Ideas and Inspirations for Writing
(volume I, green)
***
What does your writing space look like? Is it set off from the maelstrom of your family life, or are the kids allowed to plunder and pillage at will? Is your writing space also the bill-paying spot, the mail storehouse, the hats-and-mittens repository?
Don't you deserve a room of your own? If not a room, then a desk? If not a desk, then a table? If not a table, then a TV tray? You don't have to live in a palace to claim a space.
Ingredients of a good writing space:
ONE—The space should be separated from its immediate surroundings. A folding screen works if you don't have a wall. A potted plant works if you don't have a screen. A big pile of books might even work if you don't have a potted plant. You can gerrymander something that will prevent you from seeing the laundry basket, the unpaid bills, the television set. (I used to work at a roll-top desk whose back faced into the living room. An ugly setup, with my back to the window, but when I was sitting at that desk I could not see over the top and felt as if I'd entered a little room-within-a-room.)
TWO—The space should be yours and yours alone. No other humans allowed in. Animals allowed as needed.
THREE—The space should be used for creative endeavors and absolutely nothing else.
FOUR—The space should feel pleasant and contain a source of natural light.
FIVE—The space should be marked as yours by the decor: a favorite vase, a framed photo, a special charm or knick-knack. Put up a sign, a flag, a fence; pee on it if you have to. It's yours.
************
T.S. Eliot loved cats.
William Butler Yeats loved cats.
Christina Rossetti loved cats.
John Keats loved cats.
J.R.R. Tolkein loved cats.
Mark Twain loved cats.
Christopher Smart loved cats.
Marianne Moore loved cats.
Ernest Hemingway loved cats.
Oscar Wilde loved cats.
Doris Lessing, Rita Mae Brown, Carolyn Chute, Nuala O'Faolain....
Isn't it time you got a cat?
**********
A tip on structure:
Most good stories, even unconventional ones, contain these classic story elements:
Setup: Three bears go for a walk while their porridge cools.
Complication: Blonde perpetrator breaks in.
Rising Action: Perp chows down, breaks a chair, gets some shut-eye.
Meanwhile: Bears get home and survey the wreckage.
Climax: Discovered in Baby Bear's bed, perp screams and flees.
Denouement: Bears live happily ever after.
Does your story have a missing piece?
************
The Bible is a magical repository for story ideas. Every story is a metaphor with limitless possibilities for re-telling.
Place Lot's wife at a school-board meeting in Kansas.
Tempt Adam with a Corvette rather than an apple.
Turn Job into a bus driver and give him a test that even God couldn't dream up.
************
Juxtaposition is one hallmark of great storytelling. Think of big Lenny contrasted with his tiny pet mouse in Of Mice and Men, or the frigid winter landscape that provides the setting for Ethan's brief inner blooming in Ethan Frome. Juxtaposition, either subtle or extravagant, infuses even the quietest stories with dramatic tension.
Try writing a scene, in any genre, in which two seemingly opposite things go on at the same time. A French lesson being offered at the site of an excavation; a meditative letter being written at a barn dance; a lovers' tryst going on at a wake. Notice how the uneasy fit between two elements forces you to imagine differently.
*********
Rescue a stray key from that junk drawer in the kitchen.

Put it next to your word processor or typewriter.

Try to remember or imagine what this key once unlocked.

Start writing.