---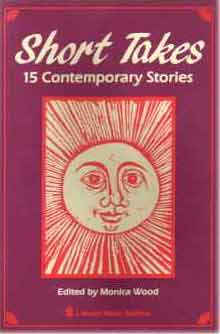 Short Takes, an anthology and teacher guide for the high school English classroom, grew out of my desire to infuse contemporary classrooms with truly contemporary fiction. The fifteen stories in this anthology are favorites of mine, culled from literary journals and newsstand magazines such as The Atlantic, The North American Review, and Harper's. Though each story features an adolescent protagonist, they vary widely in style and sensibility. The accompanying teacher guide gives the teacher a variety of creative ways to lead lively class discussions about each story's meaning and effect as well as its author's techniques and stylistic signature.
Each story is reprinted unabridged, with accompanying discussion questions and student writing exercises.
Contents
Bluestown by Geoffrey Becker
Tickits by Paul Milenski
Feeding the Piranha by Pamela Painter
What Means Switch by Gish Jen
Coyote v. Acme by Ian Frazier
Two Fathers Charis Conn
Lies by Ethan Canin
Alison's Hair by Monica Wood
Cutting Weight by Ellyn Bache
Why I Like Laurel by Ann Patchett
Homework by Peter Cameron
3A.Essay by Hugh Gallagher
Leo by Sharon Sheehe Stark
Lucy Cowgirl by Jacquie Giasson Fuller
Certain Elements by Dawn Raffel
To order this book, go to the publisher, J.Weston Walch.